KFC Birthday Time!
It's KFC birthday time!
Kids For Christ will be having a birthday celebration on Thursday, March 24th. Each child will receive a birthday gift and we are asking for sponsors.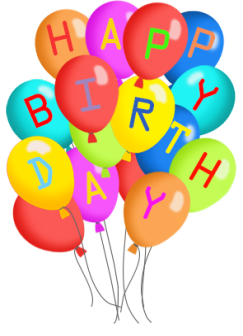 If you would like to help a child celebrate his/her special day please choose a name from the balloon design papers in the lobby and then sign your name next to that child's name on the sign up sheet. We ask that gifts stay in the $15.00 price range.
Wrapped and labeled gifts must be at the church by Sunday, March 20th. You may place them in the outer office in the Millville Building. The giver of the gift remains anonymous, but birthday cards included with the gift are welcome. If you would like to sponsor a child, but would rather donate money please let Louise know. The KFC staff can purchase the gift for you.
Thank you for making a child's birthday extra special!
If you have any questions please call or email Louise at the office. Thank you.